Blog
Never Too Late – #FlashFiction #FridayFotoFiction
---
September 25, 2017
Fiction
---
---
Sameer looked at the wall of his cabin, lined with graphs and charts.
This is what life had been like for the last 10 years. Full scholarship, MBA Gold medalist, highest campus offer, numerous Consultant of the Year awards, and today the latest feather in his cap – youngest to be promoted to Director in his firm.
For this day he had slogged year after year, barely ever seeing his parents and friends, then his wife and of late his little princess, forsaking even sleep and health. For this dream which came true today. Yet why did he feel so empty inside?
He thought about how his wife's dream was so different – a house in the mountains, where they could live a simpler life and be closer to nature.
Something inside him snapped. He turned around and walked out of his office for the last time, with a spring in his step and new-found joy in his heart.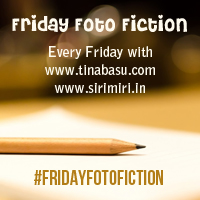 #FridayFotoFiction  with 
Tina
 and 
Mayuri
---
I am taking my Alexa rank to the next level with #MyFriendAlexa by Blogchatter.
Comments
Mayuri Nidigallu

said on September 25, 2017 11:42 am:

---

Glad Sameer found his calling. Better late than never, I'd say!
Thank you for writing for #FridayFotoFiction

Shilpa Gupte

said on September 25, 2017 4:21 pm:

---

A simple life – this is what we all crave for but often fail to realise! Beautifully done, Mahek!

Sindhuja aka Suja Dinesh

said on September 25, 2017 6:22 pm:

---

Cute post. Love the way he considered his wife's dream. The ending was perfect.

zainab

said on September 25, 2017 6:44 pm:

---

Nice take on the prompt. I wish him a great life ahead.

Team MocktailMommies

said on September 25, 2017 9:01 pm:

---

Had a sigh of relief… when Sameer sprang out of the office! Success in life was never and will never be measured on the yardsticks of the name, fame and glory but on the count of priceless treasure of memories!
– Anagha From Team MocktailMommies

SHALINI BAISIWALA

said on September 26, 2017 9:05 am:

---

We often sacrifice the one thing dearest to us while chasing the rainbows!! Good one Mahak

Varad

said on September 26, 2017 12:12 pm:

---

Better late than never, right? A really good take. I wrote something similar but took it in a completely different direction.

Aesha Shah

said on September 26, 2017 12:30 pm:

---

That requires grit, to leave everything that one achieved but love for family is definetely beyond it.

Dipika

said on September 26, 2017 9:11 pm:

---

A total turn around tale, lovely and different take.

Tina Basu

said on September 28, 2017 5:41 pm:

---

Those are my thoughts too. We are all in the rat race. Thanks for linking up with #FridayFotoFiction

Niket Sinha

said on September 28, 2017 5:52 pm:

---

The story very tastefully highlights our needs and wants. While chasing what we think are our dreams, we often miss out on things that really mean the world.

Mansi Laus Deo

said on September 30, 2017 2:39 am:

---

Oh God! What wouldn't I give to do be able to do that!! Just waiting for my retirement fund to be ready ASAP and then, I'll be off to the hills. Or ocean. Tied between the two.