Blog
Final Goodbye #FlashFiction #FridayFotoFiction
---
October 9, 2017
Fiction
---
---
She held his hand for the last time. She couldn't believe he wanted to end it all, to say a final goodbye. Things had been going so well. They had only been dating for a couple of months but she had already started imagining her happily ever after. Had she been reading the signs all wrong? She looked away so that he wouldn't see the tears that were starting to prick at her eyes.
He held her hand for the last time. He never wanted to let go, but he couldn't bring himself to put her through the ordeal that was about to come. To face what he was about to go through. The words the doctor had spoken still rang in his ears. Terminal illness. Few months at best. He looked away so that she wouldn't see the single tear rolling down his cheek.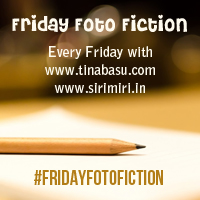 #FridayFotoFiction  with 
Tina
 and 
Mayuri
---
I am taking part in The Write Tribe Problogger October 2017 Blogging Challenge. This post is for the 9th October prompt: "Terminal".
Comments
Leo

said on October 9, 2017 4:44 pm:

---

I wonder if he should have told her so, and then said goodbye. It might hurt her more if she finds out after a few months. Then again, each person's idea of what will hurt the one they love is different. Liked the story. 🙂

Poornima

said on October 9, 2017 9:38 pm:

---

Poignant. Very less words and yet, the complete story. Nice one.

Nibha Gupta

said on October 9, 2017 11:17 pm:

---

This hurts so much! Goodbyes without closure!

Alpana Deo

said on October 9, 2017 11:18 pm:

---

You nalied it Mahak. So beautifully captured moment in just few words. He should have shared the truth. It might have strengthen their bond even more..

SHALINI BAISIWALA

said on October 10, 2017 7:34 am:

---

Oh this is so so sad! Had I been in her place I would have wanted to know the why as I am like that; knwing the why would have made this easier to bear. I am types who will latch onto guilt and keep wondering what is wrong with me that he walked away!!

Baby & Beyond

said on October 10, 2017 11:24 am:

---

Agree…that is totally how I would have reacted too.

Aesha Shah

said on October 10, 2017 9:51 am:

---

It is difficult to say good bye. Poignant story.

Gaurav Yadav

said on October 10, 2017 10:53 am:

---

Amazing, loved the concept.

Akshata

said on October 10, 2017 11:04 am:

---

That was moving- a perfect blend for terminal and the picture

Gayatri Gadre

said on October 10, 2017 11:51 am:

---

Beautiful take on the prompt. It's hard to say what will hurt her more, but it left me with a pang in my heart

Bhavya

said on October 10, 2017 12:19 pm:

---

Uh Oh! If in a similar situation I might want my partner to tell me and then mutually decide what was to be done.

Mayuri Nidigallu

said on October 10, 2017 2:31 pm:

---

My heart went out to both of them. Sometimes silence causes much more misunderstandings than words do .
Loved your take on the prompt, Mahak.
Thank you for writing for #FridayFotoFiction

Shalini

said on October 10, 2017 2:35 pm:

---

You got to be kidding me! I wrote something so similar. Wow!

Zainab

said on October 10, 2017 2:41 pm:

---

Oh that's sad 🙁 a very moving story on the prompt!

Ashwini Dodani

said on October 10, 2017 3:37 pm:

---

Sigh, loved ones and illnesses. Deadly combination.

Melani Rayen

said on October 10, 2017 4:30 pm:

---

That's a poignant story with few words..An incomplete goodbye

Team MocktailMommies

said on October 10, 2017 5:23 pm:

---

What a sacrifice! Two tear streams but with different heart ache…
Marvelous take on the prompt!
-Anagha From Team MocktailMommies

keerthi vydyula

said on October 10, 2017 7:34 pm:

---

I felt really sad at the end! If only he could have told her the reason it would kind of a closure to her…

Sreedeep

said on October 10, 2017 10:40 pm:

---

Poignant. We've seen people recover miraculously from terminal illnesses. Hope he recovers and they have a happily ever after!

Shilpa Gupte

said on October 11, 2017 3:42 pm:

---

Awwww….this is so sad! First I felt bad for her – I hate goodbyes of the permanent kind – but then I felt bad for her and him, too! And, it is going to be worst when she finds out!
That was heartbreaking…and so well written!

Anchal

said on October 12, 2017 4:10 pm:

---

Short yet deep. Beautiful yet sad. Just lovely !

Tina Basu

said on October 12, 2017 6:58 pm:

---

ohh that's sad. Life is hard at times

Apeksha Rao

said on October 16, 2017 6:49 pm:

---

Aww! What a quandary! Should he tell her or shouldn't he? Dang it, he should! She deserves to know. ?

Jinal Gada

said on October 17, 2017 11:20 pm:

---

I know how tough might be for him and for that matter for her too